| | |
| --- | --- |
| www.MyAirship.com | The Reference on Airships |
Lindstrand Balloons
Lindstrand Balloons Ltd. was formed in 1991 after Per Lindstrand left his position as managing director of Thunder & Colt Balloons. (T&C was later acquired by Don Cameron.) Today, Lindstrand Balloons offers a full line of hot air balloons and airships that is well engineered down to the smallest details. Lindstrand also produced a replacement envelope for the largest hot air airship in the world, the AS-300. The airship was developed by T&C and was formerly known as the AS-261.

Lindstrand recently developed an all new thermal airship, the HS-110. It is supposed to handle like a normal helium airship and has a fully closed composite gondola. I talked to Phil Thompson, sole owner and director of Lindstrand Balloons USA, in March 1996 and he said that the three examples flying at the time were fitted with a tubular steel gondola since the British helicopter manufacturer contracted to supply the composite gondola had not yet completed its development. The HS-110 uses a Rotax engine with a four-blade propeller and its instrumentation includes a mode C transponder which allows safe operation in controlled airspace. In addition Ragge & Willow Enterprises, who operates an HS-110 in Pittsburgh, PA, USA, has designed an internal illumination system for the envelope similar to the one found in the American Blimp Corporation's Lightships.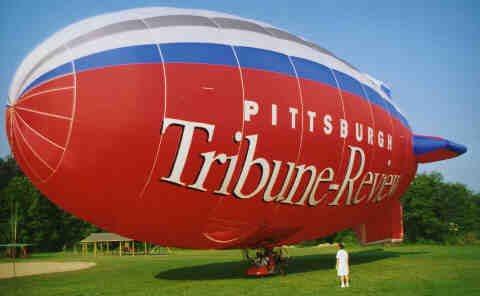 Lindstrand HS-110 Thermal Airship operated by Ragge & Willow in Pittsburgh, PA, USA.
For more pictures of the HS-110 please visit Ragge & Willow's Photo Gallery.

Per Lindstrand, who is the owner of the company, holds several long distance ballooning records which he set up together with Briton Richard Branson. Per also holds the ablolute altitude record for hot air balloons with 64,997 feet. Last but not least, Branson and Lindstrand attempted to fly around the world in the Virgin Global Challenger several times between 1995 and 1999.

For more information please see the Lindstrand Balloons Ltd. and Lindstrand Balloons US websites or contact Lindstrand by mail.
Technical Data for Lindstrand Airships
HS-110
AS-300
Length overall
34.0 m (111 ft 6.5 in)
about 53 m (174 ft)
Max. diameter
13.2 m (43 ft 3.75 in)
47.8 m (156 ft 10 in)
Volume
3,125 m3 (110,358 cu ft)
8,495 m3 (300,000 cu ft)
Max. speed
37 km/h (23 mph)
?
Endurance
2-3 h
?